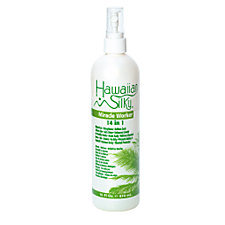 I had to give this product a try because everybody else was doing it. LOL.
I have a daughter who has curly hair and I have relaxed hair. To save money, I often buy products that work for both of us. That keeps my wallet in check and me out of the beauty supply store so often. There are a few things that seem to work well for us because the products are natural and gentle.
Hawaiian Silky Miracle Worker 14-in-1...What can I say about this product? I honestly like it. This is another item that is great my daughter's and my own hair. The smells is nice. Fruity almost :) I like that a lot. The consistency was a bit of a shocker though. I was expecting it to be a little thinner. It doesn't bother me at all though since our hair tends to get a little dry at times. I love the way it makes it so easy to comb through our hair and can be sprayed evenly throughout the hair. This is summer love at first spray. LOL. I know it sounds cheesy, but I really do plan to keep this in my regimen for the summer and longer maybe.